Welcome characters Gavin and Zoe on the "

Just

Breathe Blog Tour"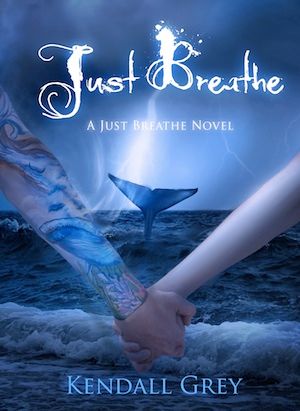 -->
Gavin and Zoe are snuggled up together on the couch in their living room, sipping coffee on a lazy Sunday afternoon.
Zoe: I've seen you writing in that little notebook with the black cover and skulls. What's in there?
Gavin: *A tinge of red creeps into his cheeks* Just stuff.
Gavin: You could say that.
Gavin: Things I want to remember.
Gavin: Do we have an anniversary?
Zoe: I'm sure we do somewhere.
Gavin: First time we met in the Dreaming.
Zoe: I don't think that counts.
Gavin: You know as well as I do that dream was real. It counts.
Zoe: Too true. Back to the notebook— *Her eyes widen, and she swats his arm* —Wait a minute. Is it a diary?
Gavin: *Huffs* No, it's not a bloody diary.
Zoe: It is! I'll bet I could sell it on Ebay for a lot of money. *Laughs*
Gavin: If you knew what was in it—never mind.
Zoe: *Arches a brow* See, now you got me really interested. Come on, just a peek? It's not fair that you can tell what I'm thinking by looking at my aura, but I have no idea what goes on inside your head.
Gavin: I can't read your mind. Emotional impressions only, and even that's dodgy. Up to a lot of interpretation.
Zoe: You seem pretty skilled at it… *Hooks arms around Gavin's shoulders and straddles him*
Gavin: *Grins* Lots of practice.
Zoe: What's my aura saying now?
Gavin: It's demanding I take you back to bed. It said if I don't, severe bodily harm will be exacted upon my person in the form of blue balls and/or acute hypertension. This situation can only be remedied with hot, sweaty sex. An hour's worth, minimum.
Zoe: That's not what my aura said.
Gavin: No? Let me try again… *Cups her breasts* *Kisses her neck* Hmm…your Water is speaking to me. You want a tongue bath…from a tall, dark, and handsome musician…
Zoe: *Giggles* Actually, I'm kinda hungry. How about you take me out for pizza?
Gavin: *Frowns* You're no fun at all.
Zoe: Tongue bath when we get home. Followed by hot, sweaty sex. And a reading from your diary.
Gavin: *Drops hands* *Groans*
Zoe: Go get dressed. *Shoves him off the couch, slaps his flannel-covered pajama ass, and grins* I'm starving.
When Gavin heads to the bedroom, Zoe pulls out his notebook from the side table drawer and thumbs through it.
"20 October: Showered Zed with rose petals in bed. Still remember the way she looked afterward—skin flushed and glistening, eyelids heavy, hair damp, body loose and sated…my beautiful rain storm."
Zoe's heart skips a beat as she remembers that night. She closes her eyes, inhales a deep breath, and clutches his notebook to her chest. Still Mr. Perfect. Feeling guilty, she slips the diary back into its hiding place.
Zoe: *Calls out* I changed my mind about the reading.
Gavin: *Enters living room, pulling shirt over rock-hard abs* You read my journal, didn't you?
Zoe: *Blushes as she sidles up to him* Okay, maybe one entry. I'm sorry. Couldn't resist.
Gavin: *Hugs her against his chest* I wrote it for you.
Gavin: I was gonna give it to you when all the pages were full. *Grins* Anniversary present.
Zoe: *Shakes head and melts into a puddle* You're such a romantic. Remind me again how I ended up with you?
Gavin: *Shrugs* You're incredibly lucky.
Zoe: * Forgets about pizza, bites his lip ring, and drags him to the bedroom* *Mumbles breathlessly* So are you.
Gavin: That's the bloody truth.
He made a deal with the devil to save the woman he loves…
After a terrible accident rocks the foundation of their relationship, Australian Sentinel Gavin Cassidy and whale biologist Zoe Morgan call it quits. Gavin can't forgive himself for shattering her trust, and being with the sexy rock star is killing Zoe. Literally.
But love—and duty—are powerful motivators, and alliances are forged in the most unlikely places. With the key to salvation locked inside the mind of an unconscious child, Gavin must find another way to snuff out the Fyre Elementals before millions of humans die, or make good on his deal with the devil and lose the one he loves. Again.
Buy Links
Kendall Grey Bio
Word diddler and whale warrior, Kendall was born without an off-switch between her brain and mouth. She's been called the "Flux Capacitor of Twitter" and "A little package of love all wrapped up in F-word paper," but she's really just a maniacal writer relaying eyewitness accounts of the rave inside her head. She writes urban fantasy romance and dabbles in erotica and horror on occasion. Kendall lives off a dirt road near Atlanta, Georgia, but don't hold that against her.
All profits from the sales of INHALE, EXHALE, and JUST BREATHE will be donated to whale education.