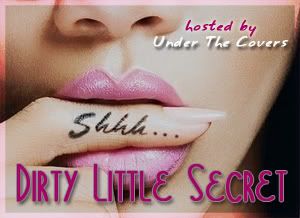 Dirty Little Secret is a weekly meme hosted by

Under the Covers

. Every Thursday we get to know other bloggers and our readers more intimately by asking them a question hoping to reveal their dirty little secrets. We hope that you will all join us!

To participate in the meme all you need to do is:

1. Be a follower of Under the Covers.
2. Create a post in your blog taking the meme image (code above) and copy instructions.
3. Answer the question we propose! This can be done in any way you like, post a video, write a post etc.
4. Then add your link below.
We hope you join us and let us know your Dirty Little Secrets!
This weeks question(s):
An evil fairy sneaks into your bedroom one night when the full moon is out and magicks you to wake up in the world you would like to live in the least. Where do you wake up?
Sam:
OMG that is so easy to answer at the moment. At the moment Iam on my very first camping trip on the beach. Its my worst nightmare! I hate sand, I hate not having plumbing and I hate not having electriciy. Its the world in which I least like to live.
Elena:
The Renfield Syndrome world,created by J.A Saare.I was afraid for all creatures,whether the were the living or the dead.One bite from your enemy and your most likely to turn zombie before you crook.CREEPY STUFF!