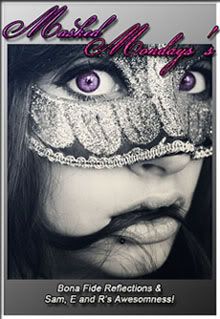 Masked Monday Blog Follow is a weekly feature that is run every Monday and is hosted by
Masked Monday is run with the objective to make new friends, to discuss secretive things on books you've read, discover new things about ourselves, find and visit other book blogs that we can all share an interest in and most of all have fun and a good laugh along the way!
Want to join? Its simple! All you have to do is follow these rules:
1. Probably the most obvious - you need to run a blog. Preferably a book blog.
2. Make sure you are able to post Masked Monday, on a Monday.
3. You will need our button to go with your post. So take the link back button and post it at the top of your post. While your there, place it as a widget on your sidebar.
4.Copy and paste these rules and Include the linky list with all the participating blogs at the end of your post OR link to this blog follow.
5. Answer the Question/s on the list and post the same question on your blog post.
6. Visit the other blogs that will be on the list. If you not already following them, do the nice thing and become a follower. Let them know so they then can return the favour in kind and leave a comment on their site. Because everyone wants more followers!
7. Put your name and blog URL in the fancy dancy widget below
8. Once linked up - you will receive a weekly email from yours truly advising on that weeks question.
MASKED MONDAYS QUESTION OF THE WEEK
Have you ever told a friend, you hated a fictional character
just to keep him or her all to yourselves? And Why?
Truthfully, I cant say that I have. I never get in early enough LOL! By the time I want to lay claim to some sexy hero, all my other girls have created thier own harem for the character. No FUN!
Elena
LOLZ!

Okay to be honest, NO, I have never lied to a friend about hating a fictional character. BUT, I gush about how much I love the Hero or Heroine, just never go into details on the "Why" I'm good at keeping secrets and making others read the novels for themselves.
Mister Linky's Magical Widgets -- Auto-Linky widget will appear right here!
This preview will disappear when the widget is displayed on your site.
For best results, use HTML mode to edit this section of the post.