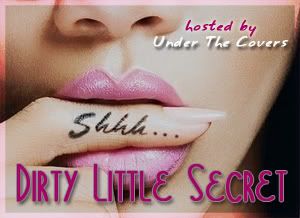 Dirty Little Secret is a weekly meme hosted by

Under the Covers

. Every Thursday we get to know other bloggers and our readers more intimately by asking them a question hoping to reveal their dirty little secrets. We hope that you will all join us!

To participate in the meme all you need to do is:

1. Be a follower of Under the Covers.
2. Create a post in your blog taking the meme image (code above) and copy instructions.
3. Answer the question we propose! This can be done in any way you like, post a video, write a post etc.
4. Then add your link below.
We hope you join us and let us know your Dirty Little Secrets!
This weeks question(s):
"
If you could jump into a time travel machine and it takes you back to when you were a kid, what would your TV be playing then?
"
Sam:
Eaaasssyyyy. Alf. Come on, who doesn't love that alien dude. Even better, here in Australia every now and again it still re-runs. I'm like a kid in a candy store with that show.
Elena:

I would love to be able to sit down eat my favorite bowl of cereal, which is Lucky Charms and watch Alf or Fraggle Rocks. Loved these shows when I was a kid!